Collaborative Response Graphics® (CRGs®) are simple visual communication and collaboration tools, useable under stress, to coordinate emergency response both outside and inside a building. CRGs enhance response time and improve command and control during an incident.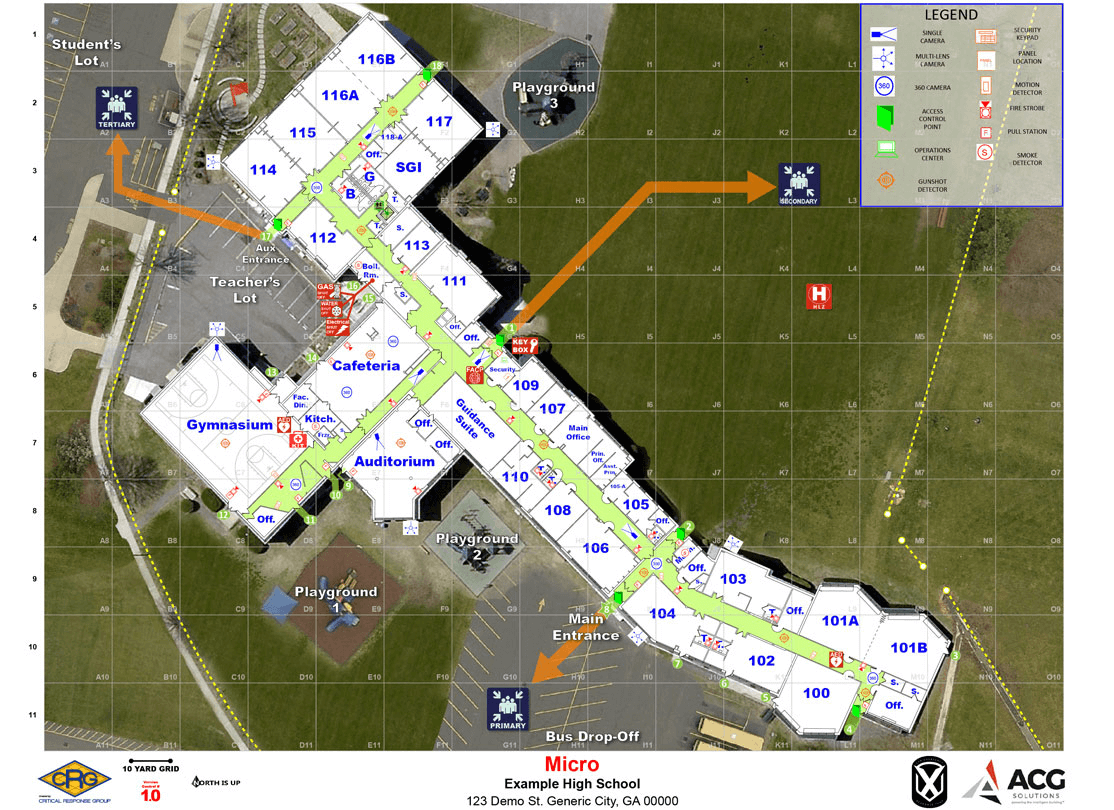 Micro CRG
Built for each floor of a structure, Micro CRGs combine a gridded overlay, high resolution imagery, and floor plans together into one map. Micro CRGs include everything that a first responder needs to know to coordinate emergency response within a structure. This includes room labels, hallway names, external door/stairwell numbers, and key utility locations.
Macro CRG
Built for a structure's campus and grounds, MACRO CRG's combine a gridded overlay, current overhead imagery with accurate labeling for parking areas, athletic fields, surrounding roads, and neighboring properties. First responders and building administrators use the Macro CRG to coordinate crisis response external to a structure, including inner and outer security perimeters, ambulance staging areas, command posts, reunification areas, etc. Buildings that are contiguous to each other or are in very close proximity to each other will share a "Macro".
For more information about CRG, please watch this video.
Defendry
Automated Threat Defense
Traditional threat reporting using passive security cameras and 911 calls relies on humans to detect, deter, & report threats, which often results in slow and chaotic emergency repsonse. Defendry automatically detects, deters, & reports threats in just seconds, helping expedite emergency resolution.
Explore Defendry Public Safety Solutions
SureCall
SureCall provides enhanced connectivity for people and businesses everywhere with advanced signal booster technology. From the asphalt jungle to those dusty back roads, we help both doers and dreamers stay connected and in-the-know.
SureCall is out to lead the signal booster industry with a continual commitment to out-do ourselves. Our agility and ingenuity are fueled by the constant suspicion that even the best products can be made better. Exceeding expectations is what keeps us going, and it's what keeps your signal going strong. So no matter how big your business challenge or how far your next adventure is, SureCall helps you chase it down without losing your connection.
Our boosters work with any carrier or mobile device.
SureCall's commitment to quality inspires our industry-leading 3-year warranty.
SureCall leads by innovation. Since 2001, SureCall has been the first-to-market leader in new signal booster technology.
We were founded in 2001 with just a little cash and a big idea. We are still driven by his vision to pursue "better" (because once you hit "best" that implies you're satisfied).
Silicon Valley is where technology lives. Our location inspires us to drive our industry forward, as other legendary innovators have done.
Include wellness screening, mass notifications, emergency alerting, messaging, real-time personnel accountability and after-action reporting all together in one place - your mobile device.
The Paratus Group got its start when Brian Searcy attended the founding meetings of the Operation Innocence Task Force following the Parkland shooting in Florida. It was determined during these Task Force meetings that we can no longer rely on past failed methodologies to solve this critical problem. We need a holistic approach both from a preventative standpoint and a training and preparation perspective to have the ability to make critical decisions and react during a crisis situation.
TODAY
The Paratus Group has unique on-site training programs for schools, churches and the workplace to allow for the training and learning of situational awareness. We have proved that you and your organizations become 80% safer just by learning and practicing situational awareness. These programs focus on the development of a mindset and behavior to be able to make critical decisions under stress. This on-site training is augmented by a 90 day micro learning program called "Left of Bang - Situational Awareness in today's Reality" that reinforces the learning and the development of a mindset and behaviors that you use and practice every day.
To truly solve this problem, however, we need to bring the learning of situational awareness to parents and families, so they are prepared to both potentially identify and remove themselves prior to the start of a critical event, but also being prepared to make critical decisions in a crisis situation. The Paratus Group has developed specific micro e-learning programs for Parents & Families, High School Students, College Students and for Home Defense. These 90 day programs allow for the development of a situational awareness process, mindset and behaviors so you can take responsibility for your own safety and the safety of our communities.
For more information about Paratus Group, please view these videos.
Close gaps in public safety preparedness
Create a unifying technology platform; leverage prior technology investments
Optimize communications and information with first responders
For More Information And To See A Demo